Fuse Bead Crafts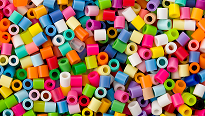 A Saturday of Crafting at the Jonesville District Library
Fuse Bead Crafts
2023-11-18T10:00:00-05:00
2023-11-18T13:30:00-05:00
A Saturday of Crafting at the Jonesville District Library
When

Nov 18, 2023

from 10:00 AM to 01:30 PM

(US/Eastern / UTC-500)

Where

Jonesville District Library

Contact Name Laura Orlowski
Contact Phone

5178499701

Add event to calendar

iCal
All ages and abilities are welcome to join us for a Saturday of Fuse Bead Crafts (also know as Perler Beads).
Note: children under 8 years old must be accompanied by their parent.
All supplies are provided for this FREE event.
Use of the iron to fuse the beads together will be limited to adults.
Stop in any time between 10:00 & 1:30 to create your fuse bead craft!